Looking to browse pictures of brown Havanese? Check out HavanesePictures.com and browse Havanese pictures of all colors and patterns!
Check out our Havanese locator; we'll help you find a brown Havanese near you
Looking for brown Havanese near you? We can help you find one! Whatever your needs or wants in a breeder and dog, we're here to help. To get started, simply contact us through our Havanese locator.
Additionally, you can use our services to find groomers and more near you
Whether you already have a Havanese or are getting your first, a good local groomer experienced with the breed will be an invaluable tool. Check out our directory to browse listings and get in touch with breeders near you.
Learn more about the Havanese breed
Temperament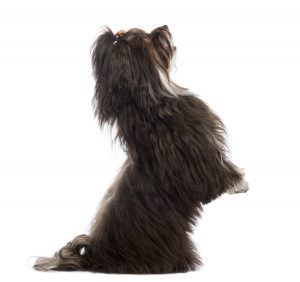 The Havanese is a smart, friendly breed that can make an excellent pet for most any family or living situation. While preferring the company of their favorite person, they are sociable with anyone and do great with children. Clownish, they will try their best to make you laugh! Although an energetic breed, they are happy to keep their playtime indoors and do not require a large backyard or hours long hikes.
For even more information on the lovable personality of the Havanese, please see our Personality & Temperament page.
12 Havanese Health Tips
Keep your Havanese healthy and happy longer by following these tips! As always, remember to discuss any diet or lifestyle changes with your veterinarian.
Start out right by acquiring your Havanese from a reputable and responsible breeder! A reputable and responsible breeder is someone who raises their puppies in a loving environment and gives them proper health care prior to going home, such as puppy inoculations and dewormings. It is best to find an experienced breeder who has been breeding Havanese for at least 10 years.
Make sure to bring your Havanese in to the veterinarian for its yearly check up and vaccinations!
Talk to your veterinarian about a heartworm preventative, as well as a flea and tick preventative. Remember that these products are poisons to kill the fleas, ticks, and heartworms, so use them sparingly with discretion.
…